This page includes information about Kang Daniel and KONNECT Entertainment's media releases which include DVDs, publishing, merchandise and goods. Check out the agency's shop for availability.
Best viewed on PC. To see the full tables on mobile, swipe left and right.
1st Artbook: NEVER STANDING STILL – IT'S TIME TO SHINE
On October 27, 2020, the 1st artbook infopage opened. KONNECT Entertainment revealed that Kang Daniel worked with Paul McCartney's personal photographer MJ Kim to create an artbook. This first artbook since Daniel's solo debut differs from existing photobooks with storytelling about music and dreams and details the passion and agony of his twenties like a film. The artbook recorded a variety of never-before-seen images, focusing on capturing Daniel behind the stage. There is a special message that crosses the boundary between reality and fiction.[s] Pre-orders go from October 30 to November 11, 2020.
Component
Details
Hard case cover
3 types: INNOCENT, VIBRANT, MYSTIC
240 x 330 x 40 mm / 1200g
Art book
3 covers
225 x 300 mm / 160 pages
DVD case
DVD
125 x 125 mm
40 min
Postcard set
3 types
140 x 200 mm / 6 each
Double sided folded poster
3 types
890 x 590 mm / 1 each
Credits
EXECUTIVE PRODUCER
Vandemn Tiger
PRODUCER
Kang Min
DIRECTOR & PHOTOGRAPHER
MJ Kim[ig]
MANAGING DIRECTOR
Park Woo Sung
LINE PRODUCER
Yang Min Woo, Choi Min, Kim Byoung Do
ASSISTANT DIRECTOR
Park Jong Hee, Lee Hwang Ho
GAFFER
Choi Man Ho
ELECTRICIAN
Holight
MOVIE DIRECTOR
Baek Dong Woo
ASSISTANT MOVIE
Lee Kyung Ho, Heo Hoon
MUSIC
TAIBIAN[ig]
ART DIRECTOR
Park Sae Kyung
ART TEAM
Lee A Young, Kim Hyung Ju, Cho Kwang Hyun, Kim Do Hee, Kim Tae Hyung
LOCATION MANAGER
Jung Hyo Sung
BEHIND PHOTOGRAPHER
Yoo Eun Mi
ASSISTANT PHOTO
Park Jun Il, Han Ji Ye
IMAGE RETOUCHER
Lee Soo Kyung
ARTBOOK DESIGN
TGC Studio
ARTIST MANAGEMENT
Kang Gyohyeok, Han Duho, Jeong Dongyun
CONTENTS PLANNING
Seo Youngjun
CONTENTS BUSINESS
Kim Jihyun
PUBLIC COMMUNICATION
Tak Jinyoung, Gu Gahyun
STYLIST
Kim Youngjin
HAIR
Kim Haebin
MAKE UP
Lee Anna
"EYES ON DANIEL"
PHOTO BY
Kang Daniel
DISTRIBUTION
Dreamus Company
Gallery
Type
Details
Link
Image
Covers preview
IG
Video
Coming soon teaser
11ST goods TWT
Gmarket TWT | YT
Interpark IG
Producers IG 1 | 2
Video
Greeting message
11ST goods TWT
Gmarket TWT | YT
Interpark IG
Image
D-day covers
11ST goods TWT
Gmarket TWT
Interpark IG | TWT
Image
Rooftop behind
IG
MJ Kim IG
Image
Spoiler 1 : BLACK
IG
MJ Kim IG
11ST goods TWT
Image
Spoiler 2 : EYES ON DANIEL
IG
Video
Spoiler 3
YT
Image
KONNECT behind
NV
Where to Buy
HELLO, DANIEL TRAVEL STORY IN PORTLAND & LA DVD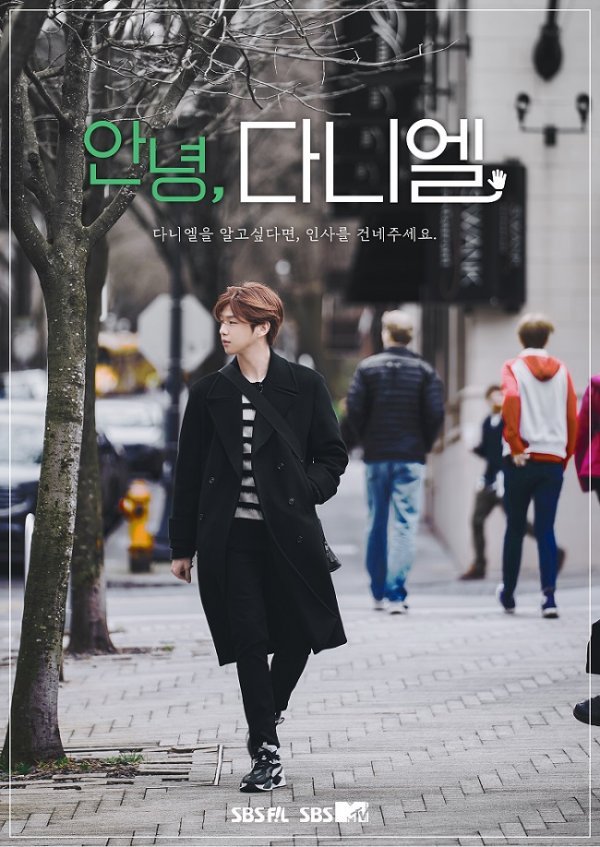 Hello, Daniel is Kang Daniel's first solo reality program detailing the 25-year-old youth's adventures in Portland, a sentimental city of the arts valuing the kinfolk lifestyle. On May 15, 2020, it was reported that pre-orders for the first Hello, Daniel DVD would go until June 1, 2020. The DVD contains unreleased videos of Kang Daniel's SBS FiL travel reality show and the production process behind his first mini album CYAN. The DVD was officially released on June 30, 2020.[s]
Component
Details
Package
140 x 193 x 27 mm / 443g
DVD
DISC 01: 71 min
DISC 02: 52 min
Subtitles: Korean, English, Chinese, Japanese
Image booklet
133 x 185 xx / 80 pages
Accordion postcard
600 x 150 mm
Paper frame
175 x 122 mm
Photocard
54 x 86 mm
Photo card
54 x 86 mm
Sticker set
2 pages
Credits
P&C
KONNECT Entertainment
SBS Medianet Corp.
DISTRIBUTION
Orange Co., LTD.
Track List
| | |
| --- | --- |
| DISC 01 | TRAVEL STORY IN PORTLAND |
| 1 | Travelog in Portland: Fact Check |
| 2 | The Kinfolk Comic Exploration |
| 3 | Chef Kang's Cooking Class |
| 4 | Behind-The-TV-Scenes |
| DISC 02 | TRAVEL STORY IN LA |
| 1 | CYAN Mini Album Cover Shoot |
| 2 | "2U" Dance Practice |
| 3 | "2U" M/V Shooting Sketch |
Where to Buy
Merchandise & Fanclub Goods
Fanclub
| | | | |
| --- | --- | --- | --- |
| Year | Type | Details | Link |
| 2019 1st Fanclub Kit | Article | Pre-order guide | Site |
| 2019 light stick (Danibong) | Article | Pre-order guide | Site |
| 2021 2nd Fanclub Kit | Video | Teaser | VL | YT |
| | Video | Making film | VL | WB | YT |
| | Video | Unboxing | YT |
| | Image | KONNECT behind | NV |
| | Image | studio-onsil design | IG 1 | 2 | 3 |
Other