The official fandom name DANITY or 다니티 was revealed on August 29 name through V LIVE and Twitter.
DANITY combines "Daniel" and "-ity" to mean that every moment that Kang Daniel and his fans spend together is special. Just as "-ity" is a suffix that can be added to many different words, "Danity" means that there is no limit to the memories that Kang Daniel and his fans make together.[s] [soompi]
Peach(es) or *Pichi 피치 was the unofficial name for Kang Daniel's fandom. The name came to be during Daniel's participation on Mnet's survival show Produce 101 Season 2. At the beginning of the show, Daniel sported pink hair, and his pale complexion along with his bunny teeth reminded fans of the peach-shaped KakaoTalk character Baby Apeach. Soon after, the fans started to call themselves Peach(es), and Daniel became Prince Apeach. Nowadays, this is a nickname even the Korean press uses to call Daniel.
*Korean fans don't use the word "peach" in Korean = Bogsung-a 복숭아. Instead, they use Pichi from Eopichi (Apeach), which is the Korean pronunciation of the English word "peach."
During Daniel's hiatus, fans affectionately referred to themselves as No-Names (Mumyeong 무명). After a fanclub name suggestion period, fans were asked to vote among 3 names Daniel picked (Steezy, Bell, El'Do) and 3 names fans picked (Hi.D, Re:D, Danitty).
Fans Demographic Diversity
Normally, an article released regarding an idol would attract more comments and likes from the teenage population (those in the 10s age group). However, Kang Daniel is an anomaly to that usual trend. Despite having a strong teen fanbase, the largest support for Kang Daniel comes from the 20s, 30s, and 40s age groups (with older female fans dubbed as 'noona fans' ). Demographic statistics from many of his articles show that his support comes from a very diverse age group (a balanced distribution of the 10s through 50s age groups), with the 30s and 40s age groups regularly comprising the highest percentage. Not only that, he also attracts the attention from the male population, and up to 10% of his articles' comments are left by men. This is a very rare case for an idol, as older age groups typically prefer actors over idols, and male idols generally do not have a lot of male fans. Kang Daniel has proven to be an exception to that rule, with even male celebrities admiring him and commenting how cool he is.
Donations and Volunteer Work
Many Kang Daniel fans showcase their dedication towards him through a remarkable way: philanthropy through volunteer work and donations under his name. This spirit of social awareness is inspired by Kang Daniel himself. During Produce 101 Season 2, Daniel was spotted wearing various products from Marymond, a social enterprise that helps comfort women and their grandchildren, thus earning him "the thoughtful trainee" title. Following Kang Daniel's effort to raise awareness on this issue, DieuDaniel (Daum fancafe) made a joint purchase of 600 Marimond Girl Award badges totaling 3.66 million won. The profits were used for the establishment of the Comfort Women's History Museum and comfort women's life and welfare fund.
Other examples of these fans' donations are the following: 8.2 million won donated to the "Good Neighbors Campaign for Abused Children" by Danielcom (Naver fancafe) to help abused children in commemoration of Children's Day in Korea, DieuDaniel donating quilts and various other products from The Spring Home (a brand that Daniel endorses) for the fancafe's first anniversary, and a donation through the Exciting Dish Fanshop website to an organization in Gwangju, Gyeonggi, Korea that assists women who were forced into sexual slavery during war.
But the biggest fan donation event was, without a doubt, done during Daniel's 21st birthday on December 2017. When Daniel mentioned he wanted fans to help build a clean source of water in Africa as his birthday present, fans did just that. KangDanielDaily, his biggest international fansite, raised and donated a total of 1,000 dollars through The Water Project to help build a dam that would provide clean water for the 500 residents of the "Kathama Community" in Kenya, Africa.[s] Danielcom donated approximately 7,000 dollars through Good Neighbors – Water For Life to build a source of clean water for 1600 students from the Matava School in Rwanda, Africa, which was finalized on May 30, 2018.[s] Meanwhile, RiceWithPeach helped build the "DaniWell" in Cambodia through World Share. The birthday event didn't stop there though. Multiple fansites and individuals from South Korea and other countries participated in social projects dedicated to child cancer patients, comfort women victims, elderly support, low income households, cat and dog shelters, wildlife animals, UNICEF, Save the Children, and the Pohang earthquake victims, among many others.[s]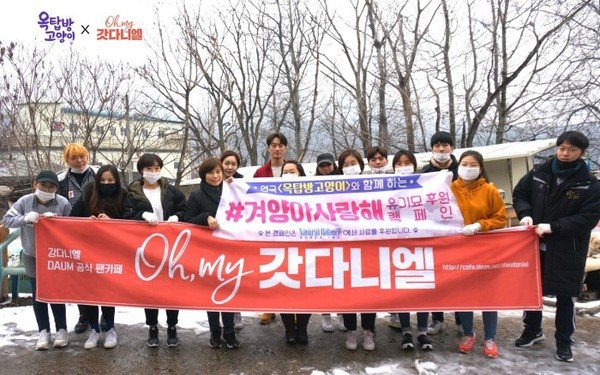 "Stay strong and get well, God Daniel"
Members of Kang Daniel's Daum fancafe DieuDaniel teamed up with theater play production "옥탑방고양이 (Rooftop Cat)" to donate 500kg of cat food and perform volunteer activities at an organic animal shelter in Namyangju, Gyeonggi-do.
DieuDaniel said, "To celebrate Daniel's 22nd birthday, we are collaborating with the 'Rooftop Cat' team to support abandoned cats. We felt that this was a particularly meaningful gift due to Daniel's special love for cats, so we are very happy."[s]
All these fan efforts not only warm hearts but also promote a healthy and mature fan culture in which idol and fans lead by example. On June 12, 2018, Kang Daniel shared on the Wanna One Instagram account a video of him participating in the Ice Bucket Challenge and donating 2 million won through the Seungil Hope Foundation after being challenged by EXO's Chanyeol. The Seungil Hope Foundation hopes to build the first hospital in South Korea specializing in treatment and rehabilitation for amyotrophic lateral sclerosis (ALS) patients. This noble action immediately prompted fans all over the world to also donate and spread awareness with the hashtag #아이스버킷챌린지_강다니엘, causing the foundation's website to crash momentarily due to the overwhelming number of visits. Jinusean's Sean, who is a director of Korea's Seungil Hope Foundation, wrote hours later on his Instagram account to thank Daniel and his fans, "I think now I know why people always say 'Kang Daniel, Kang Daniel!' I will look forward to seeing you as a great singer and celebrity with good influence. I will pray for you, Daniel. Thank you."[s] Among the many fans that joined in to help with this cause, DieuDaniel donated the same amount Daniel donated, a total of 2 million won.[s] Meanwhile, WingDanik announced they would gift Sagittarius bracelets from withice.or.kr to anyone donating through their exhibition in Seoul next July, encouraging fans to "follow Daniel's pretty heart."
On June 13, the Chinese ALS organization Oriental Rain ALS Care (ORACC) posted a message through their official Weibo to thank Kang Daniel and his fans for the many donations they received. They commented, "Kang Daniel posted the 2018 Ice Bucket Challenge video and his donation certificate on Wanna One's official Instagram, so not only Korean fans but also domestic (Chinese) fans contributed. We think this is the power of a star's positive influence. Thank you Kang Daniel and his fans. Thank you for your help to the ALS patients. Love is on the road and will never be stopped."[s] As of June 29, it was revealed by the Seungil Hope Foundation website that from 10,000 donations they received from May 29 to June 28 (amount exceeding 9 billion won), the reports show that over 1,000 donations were affiliated with Kang Daniel.
From June to August 2018, Kang Daniel fans also celebrated his 1 year anniversary since Daniel won Produce 101 Season 2 on June 16 and his debut with Wanna One on August 7. These dates were no exception for fans to show their warm hearts with more good deeds in his honor. Daniel's Naver fancafe Danielcom donated a total of 120 electric fans from Bokuk (another brand that Daniel endorses) to Yeongdo-gu Seniors Welfare Center. Busan's Yeongdo-gu is the neighborhood where Kang Daniel was born and raised before his debut. Danielcom commented, "We hope this kind gentle breeze of Kang Daniel can help the seniors overcome the hot summer weather."[s] [s] LunarPlanet, one of Daniel's biggest fansites, made a donation to the Korean Association for Children with Leukemia and Cancer.[s] Other individual fans made healthy donations to the Korean Animal Rights Advocates (KARA),[s] [s] while fansites CODE and RiceWithPeach came together to donate food and volunteer at a dog facility. CODE posted, "To commemorate the first anniversary of his debut, we wanted to return the happiness he has given to us; therefore, we have decided to donate supplies to an animal shelter in the suburbs and volunteer for the day. We were happy to spend the first year anniversary of his debut in a meaningful way, and we will always cheer for Daniel's bright future ahead."[s] [s]
Fan Voted Charity Angel and Fairy
The CHOEAEDOL app holds daily polls the whole year with a voting system of accumulating points. The person and group that are ranked first in the cumulative rank win the Charity Angel category. Those who have the highest monthly number of votes win the Charity Fairy Category. For the winners of each category, CHOEAEDOL donates 500 thousand won under their names and gives them a certificate. If the idol or group wins for five consecutive months, CHOEAEDOL gives them a fan-designed subway ad for a month. Kang Daniel's strong fan effort helped him win Charity Angel for 20 months (17 consecutive) and Charity Fairy for 22 months (18 consecutive). This further shows that Daniel's popularity and his fans dedication cannot be underestimated.
One of the most prominent traditions among K-pop fans is to have advertisements for their favorite idol on subways, buses, and important intersections, one of them being New York City's Times Square. Unarguably one of the most important intersections in the world, Times Square is considered the cream of the crop for advertisement location choices. Normally, only established K-pop idols with sizable fandoms will have their advertisements at Times Square. These ads are usually done by Chinese fans, as they are extremely expensive.[s] But despite being a rookie with only 4 months into his debut, Kang Daniel had his first Times Square advertisement at Thomson Reuters during his birthday on December 10, 2017. It played throughout a whole week, and it was the result of fundraising from his Korean fans. The cost of the ad (around 30,000 dollars) and the fact that it was done by Korean fans were so rare that the event was covered by the Korean media several times.[s] It even prompted the US Embassy in Seoul to post a Tweet about it, showing that his impact was also felt by political authorities.[s]
During the first half of 2018, a mobile app called STARPASS started implementing a Times Square ad that would play every Friday of a month as a prize for the idol who won the most votes through the app. The same idol could be eligible for the voting every two months. Kang Daniel won this ad several times from 2018  (June, August, October, and December) to 2019 (February, April, June). All the ads were designed by his fans. In November 2019, Daniel won the Birthday Times Square ad from mobile app STARPLAY.
All photos courtesy of KangDaniel.com (@kangdaniel_com)