"B-boy on the ground, now a global performer."
― Mnet's Street Woman Fighter
Kang Daniel was the token quiet kid growing up. He had once joked to his manager on MBC's Omniscient Interfering View that his nickname was "soft persimmon" in school due to his naivety and tenderheartedness. After entering Shinseon Middle School, he was in the magic club and then set his sights on joining the reading club the following year. But fate had different plans. When it was time for 8th grade students to pick their after school clubs, Daniel had fallen asleep in class and missed his chance to go for his top choice. What remained on the sign-up board was the b-boying club. As Daniel suffered from bullying since young due to his chubby looks and being shy, his middle school teacher also encouraged him to start dancing to build his self-esteem. So Daniel gave dancing a try. He began to think, "Something fun has found its way into my life." This decision to join the b-boying club with reluctance would turn out to be the stepping stone for what would become his lifelong passion.[s] [s]
Humble Beginnings:
Daniel's dedication to dancing shines through the words made by his teachers. While Daniel participated on Mnet's Produce 101 Season 2 in 2017, one of Daniel's middle school teachers posted a support comment and shared, "He always performed at school events, and his dance team was even invited to events at other schools. He wasn't just a cute kid when he danced. His eyes shined brightly and he seemed to be overflowing with energy every time he performed. He really put his soul into dancing." In addition, Daniel was very team-oriented. The homeroom teacher who formed the b-boying club remembered, "[Daniel] had a really good personality. He'd greet whomever he would meet first. When something would happen in the team, Daniel would apologize even though he wasn't at fault. He was also polite and kind towards his friends."[s]
Daniel was encouraged to properly train his muscles and learn b-boying in earnest at private dance school Nataraja Academy (나타라자 아카데미) by Lee Kanghyun, a Nataraja instructor who taught the b-boying club after school. Daniel's middle school teacher continued, "After school, he went all the way to Haeundae, a round trip of three hours, just to practice at a dance academy late into the night. He dedicated a lot of time towards dancing even though he was just a middle school student. The principal of his school supported him so he could grow as a dancer." B-boying instructor Lee added, "His motivation for b-boying is great. When he came to the academy at 5pm after school, he danced until the academy closed at 10pm. We live in the same direction, so I left work with Daniel almost every day."[s] [s]
Acquaintances from when Daniel was in middle school talked about what he was like. His schoolmate posted that a thing they remembered most about Daniel was when he performed "Hip Song" at a school festival, and the response was very good. Even afterwards, students would always request songs in the classroom, and Daniel would dance while smiling bashfully. A middle school friend confessed, "There cannot be a shameful past about him because he just danced sincerely and diligently and that's all." A university student who learned b-boying with Daniel revealed, "People who came to learn b-boying usually try to learn the skills only, but Daniel tried to put priorities on the basics and was very good at them […] He said he really liked footwork and was also good at it." He recounted that Daniel was "just really kind and smiled a lot, really loved to dance" and chuckled at his fond memories of middle schooler Daniel who always switched up what he wanted to use as his b-boy street name.[s] [s]
As a result of a lot of hard work, Daniel received recognition during his student years for his dancing. In August 2011, 14-year-old Daniel and his battle partner won in the finals of Busan City Kids Vol.2, a dance battle competition hosted by Just Dance Academy.[s]
Following Daniel's debut, his thoughts on dancing during middle school were broadcast.
On Mnet's Wanna One GO Zero Base Ep 3, Daniel and his mom had a heartfelt conversation about b-boying. Daniel's mom told him to never complain that it's hard to be a b-boy and he has to take responsibility for something he chooses. Daniel answered, "I never complained that it was tiring, not even once! Really. Even when my fingers broke, didn't I still say [b-boying] was fun?"[s] [s] In Zero Base Ep 4, Daniel reunited with his middle school homeroom teacher who introduced him to dancing. His teacher brought Daniel's self-introduction questionnaire where he wrote about his dreams:[s] [s]
I haven't decided yet, but I want to go into music […] Back[up] dancer(?) (because I like dancing) […] The passion for dancing is second to none. I'm not ashamed of not being able to study. The most important thing for me is dance, so I think it's the way of my life, and I'm heading there too.
Special note:
1. I like dancing and I don't want to go anywhere else.
2. There isn't a good perception about people who dance, so I want to fix that.
In HELLO DANITY Ep 11, Daniel recalled a fun time when his team was eliminated in the preliminary round at their first school competition. The initial feeling among his team was not good, but afterwards they exclaimed to one another, "Ya, let's practice!" Daniel really liked that savage vibe they had, which entails having ambition for yourself without harming others, and is something he likes to this day. On a similar note, he likes hearing the compliment 멋있다 (meositta, meaning cool/awesome), because when he did busking before debut, people shouting that gave him a lot of power.[s]
Daniel danced a lot as a hobby outside of lessons. He told MUPLY he even practiced b-boying in the school auditorium hall on the weekend with permission. If that was not open, he danced at the subway station or any surface, including the asphalt or dirt floor. "That floor made my hands bleed, but I kept going. I just did that because I liked it. If I bled, I just wiped and continued. I practiced hard like this. My mom liked me doing this. She said it's great that I have something I want to do: 'It's your life. I am sure you thought it through.'"[s]
Kang Daniel enrolled in the Peniel High School of the Arts to study dance. His first major was modern dance and his second major was ballet. It took him around a month to become accustomed to wearing a leotard and tight fitting clothes, but he found learning these new dance genres very interesting.[s] When Daniel was a freshman, he won a gold medal in the modern dance category at the 49th High School Performing Arts Contest in 2012. In addition, Daniel continued learning at Nataraja, which included taking some urban dance classes held by Son Byunghyun (aka Sonbang, known for competing in Mnet's Dancing 9 Season 2). Daniel retold on Hello, Daniel that when he was attending the Haeundae dance school, he walked home often to save on transportation fees. Sometimes he returned at 3:30am or 3:40am. He would then sleep for a bit only to wake up to go to school at 7:30am.[s] [s] [s] [s] [s]
However, due to difficult financial circumstances with his mother raising him alone, Daniel found himself having to drop out of his arts school after one year and instead took Korea's equivalent of the General Educational Development (GED) test. In a 2020 guest appearance on KBS2's Yoo Heeyeol's Sketchbook, Daniel told the host that ballet was fun, but sadly his tuition was too expensive.[s]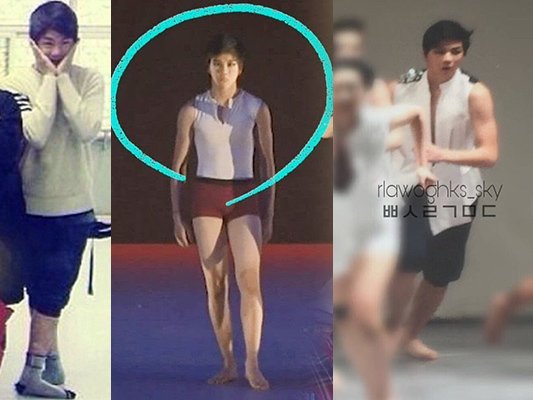 Hyun Imsook, head of Peniel's Department of Dance and Daniel's modern dance mentor, remembered Daniel as a "very sincere student" and elaborated, "It was obvious that he liked to dance, and he was a student who stood out in terms of skills. If he continued dancing, he would have succeeded. So there was a lot of potential for growth. I remember he prepared diligently for the competition." She said he was tall and handsome and stood out to the extent that there were agencies inquiring and that "Daniel was so known in school to the point where all teachers knew who he was when 'Kang Euigeon' [Daniel's name before it was legally changed] was mentioned." After Daniel's debut, interest in Peniel increased because he became known for his performances, and Professor Hyun expressed her gratitude.
Instructor Lee had recommended that Daniel should try being a singer due to his good proportions and talent, but Daniel didn't have any intention of becoming one until after high school.[s] [s]
While working numerous jobs to support his passion for performing, starting as a construction worker to working in other places such as a café, convenience store, movie theater, and restaurant, Daniel also danced in busking events, continued to learn at Nataraja, and was active in Loups Crew with the stage name FLAC. He used to busk at the subway station often and felt proud when he had bruises on his body because he considered them proof of his hard work. For his 2020 artbook Never Standing Still, a tunnel site was selected as a photoshoot location. When asked about the setup, Daniel replied, "Well… it's comfortable. Familiar surroundings, good environment […] I used to tape the black acrylic board with friends." He explained what made busking special to him. "I can do charity performances with people I don't know. I love it when people who are passing by or who are curious or want to enjoy, gather and enjoy together and give us applause. I love the atmosphere. It's not like I have to show off my cool move. I did my best because I loved the atmosphere." Daniel brought up that busking can be done casually with no need to have top-notch audio equipment. "It's more meaningful that I breathe with other people face-to-face."[s]
Furthermore, his dancing has been acknowledged by other street dancers. KONNECT's current dance director knew Daniel from his Busan dancing days as "the cool b-boy hyung whom I could only greet and admire from afar". Professional b-boy team Fusion MC selected Daniel as one of the top 10 Korean celebrity b-boys and had a good evaluation of his power moves and tracks. MB Crew's Zealot (Kang Jaesung) highlighted some of Daniel's pre-debut moves, including freeze and windmill. Wild Crew's Park Hyungju and Crasher (Jung Sangyoung) reviewed b-boy talents in the entertainment industry and noted Daniel's Thomas (flare), windmill, and swipe. They disclosed it takes a long time to level up to this degree. In Wild Crew's review of Daniel's V LIVE b-boy lesson, they said Daniel has a "high level of knowledge" and knows the exact tip to pass on when teaching viewers important points. In addition, instructor Lee said, "He has both the ability of idols and professional dancers. His standards are very high."[s] [s] [s] [s] [s] [s]
Director Ryu of the dance academy located in Haeundae (currently HO Dance after Nataraja moved to Busanjin) praised Daniel's enthusiasm for dancing when asked in 2020. He observed that Daniel always practiced silently, seriously, and was extremely concentrated and complimented Daniel's wide shoulders and beautiful dance line.[s] [s] [s] [s] Instructor Lee applauded Daniel's diligence on Mnet's I Can See Your Voice 8 even after years passed: "He was a hard-working student. He was always the first to arrive and the last to leave." Daniel quipped, "Working hard is what's important."[s] Daniel had learned dance at the academy since he started dancing in middle school until he moved to Seoul to become an idol trainee in 2014.
While working part-time at a meat barbeque restaurant, Daniel saw artists on music shows on TV and aspired to perform on stage like them.[s] Daniel told MUPLY, "Realistically, [pursuing music] was the only thing that I could do. I wanted to grow myself. It just happened to me without a plan." He wound up at one of the initial agencies he auditioned for due to an acquaintance's suggestion. Daniel divulged on MBC's Radio Star the trainees received little support and lacked formal training for the 2 years he was a trainee. His social media at the time was peppered with basement practice videos of him learning YouTube dance covers, which were eventually taught to other trainees. The trainees were occasionally used as backup dancers for other idols, but there was no official debut imminent.
When Daniel participated on Produce 101 in 2017 as his last chance, he first appeared as a pink-haired smiley trainee without much of a glimpse of his audition. He gained attention for his dance ability when he quickly learned the choreography of "Pick Me" during the B Class practice, earning the trust from the dance trainer and becoming one of the designated trainees to teach others. His capabilities helped him move to A Class later. In a show where others aimed to be the center, Daniel opted to be a leader for the "Get Ugly" and "Open Up" choreography practices. His Naver TV fancams from all of the team missions became trending topics, and he went viral for his clean detailed dancing and ability to digest concepts. A spur-of-the-moment thigh sweep became an iconic move people emulated.[s] Additionally, Daniel contributed to the "Get Ugly" dance and was in charge of choreographing "Hands on Me" from start to end.[s] [s] Daniel eventually made his long-awaited debut through the show. Since then, some of his individual performance videos made Naver's top viewed videos in 2017 and 2019.[s] [s] Even after debut, he had a hand in creating performances. His thoughtfully-designed 2018 year-end solo stage was highly discussed, where rather than showing showmanship, he wanted to do something he could think about and remember with fans who followed the temporary group's journey. He wrote in the fancafe, "I wanted to deliver a story."[s] [s] His soloist performances have continued to become hot topics of discussion. In particular, the technicalities in "Who U Are" and storytelling execution in "PARANOIA" had resoundingly positive reception among professional dancers and viewers.[s] [s] [s] [s] [s] [s] [s] [s] [s] [s] [s]
Daniel's dance teacher sincerely congratulated Daniel on his success. Per Weekly Dong-A, instructor Lee said it was "thanks to the past where he practiced more diligently than anyone else" as the reason for Daniel's debut and popularity.
After his debut, Daniel shed further light on what he thought about dance in general.
According to a 2018 photo essay, when asked what was the force that made Kang Daniel who he is today, Daniel coincidentally echoed his dance teacher's sentiment with, "You can't b-boy well if you're not fit, so I learned to dance while developing my muscles. And I always stayed until the academy closed to practice. I think that effort had been my foundation."[s] [s] His photo essay interviewer remarked he had an excellent reputation at expressing song lyrics with his gestures and asked how he interpreted song into dance. Daniel responded, "When I learn a choreography, firstly I memorize all the moves. Then I give thought to the reason why some specific lyrics are going with specific moves. I also observe subtle gestures and facial expressions attentively, and quickly catch what is needed in that part. Rather than expressing the mood of the whole choreography, I try to deliver the story hidden behind the lyrics. I consider dance as a kind of sign language." On Radio Star in 2021, Daniel was asked his secret behind how the same dance can look so different. Before debut, he had a fan who was hard of hearing who loved the way he danced. He realized that people who can't enjoy the sound of music can view dance like a sign language using one's body. So from then on, Daniel put care into the small details to even his fingertips.[s] [s]
In a 2019 High Cut interview, Daniel was asked about his thoughts on becoming known as a "Fancam Master" and the popularity of his performance videos. Daniel humbly replied, "In reality, there are many who dance far better than me. On this Earth, I bet there are over 100 million. But to think about why [my focus cams] are popular, it may be because they are natural. When I dance, I don't try to force a part. I take a curve and a single line, and I like the feel of that. As I leave or when I go back as I sing, I try to ride the rhythm."[s] [s]
In regard to his solo work, Daniel bounces ideas with his dance team based on his creative vision. For instance, "PARANOIA" was inspired by a couple of his favorite movies Constantine and Venom. He especially adds his own personal touches to how to conclude the performance, as in "TOUCHIN'" and "Antidote". His team has reached out to talented choreographers from around the world to help complete his dances. On the domestic side, they work closely with his dancer friends in We Dem Boyz and Auspicious in particular. Additionally, Daniel has dances created by international choreographers, including Antoine Troupe, Tobias Ellehammer, Franklin Yu, Marc Marvelous and Amy Allen in 2019. As for 2020 releases, Lyle Beniga and Amari Marshall assisted with choreographing the second verse of "2U" and "Who U Are" demo, respectively. "Intro (Through the night)" choreographer Franklin Yu shared in an interview that they usually tend to make the dance simpler when choreographing for stars. But for Daniel, the dance was made especially difficult to showcase Daniel's abilities as a dancer since he has heard of and seen for himself Daniel's skills. In HELLO DANITY Ep 15 where Daniel talked about the synergy with his dancers, he added, "I think they are artists that make the show together […] I value all of my dancer teams."[s] [s] [s] [s] [s] [s]
Daniel's choreography draws from many dance influences including but not limited to street dance genres such as hip-hop and krumping, genres typically not seen in K-pop such as dancehall, and more with modern dance recently being incorporated in his 2021 release "Antidote".
He finds inspiration all around him: "Being a dancer first, it's a force of habit to listen to a song and think about the visuals and aesthetics." In response to Oricon noting the difficulty of the "Who U Are" choreography, Daniel explained that his team's style was not a typical K-pop style and that it may be difficult for inexperienced dancers and that "Rather than showing neat lines and the texture of music, we follow the flow of the song. We create rhythms from the body." When asked on his merits as an artist, Daniel included dance as one of his best traits. "Even though I think I am still working on it, I would say that the choreography to my performances are a little different. I am trying out dance styles that challenge conventional ones. I think that I'm creating performances that are fun to watch, especially for the audience."[s] [s] [s] [s]
In 2021, Mnet's Street Woman Fighter (SWF) appointed Kang Daniel as the face of the show as its MC for Korea's first female street dance crew reality competition. In the official press announcement, Daniel was described as an artist known for his dance skills and love for dancing. It recapped his b-boying, modern dance, teaching, and street dance battle experience. Mnet said, "His diverse experience with dancing makes him the perfect fit for a dance program's MC." Daniel commented, "I'm excited just from thinking about seeing the performances of the top dancers from up close. It's an even greater honor to take on the special role of an MC. I think I will receive lots of inspiration as an artist, and I will also share my experiences and provide support for the dancers to create their best performances."[s] He received praise from viewers for drawing on his experience while emceeing during battles. Captions were edited based on the dance battle terms he used. The PD said he was very helpful during filming, which can be confirmed on broadcast.[s] [s] Appearing as SWF's MC led viewers to discover Daniel's past from when he started as a b-boy, and he was complimented for his dance ability and how his hosting made the show more authentic to the street dance scene for the general public.[s] [s]
After the huge success of Street Woman Fighter, several spin-off shows were released with Kang Daniel returning as the MC of the main street dance series, in particular Street Dance Girls Fighter featuring female high-school crews and the male version of the show Street Man Fighter (SMF) premiering in August 2022. Prior to SMF, Daniel announced the results of Mnet project crew competition show Be Mbitious through prequel show Be the SMF. In an article confirming his appearance as the SMF MC, PD Choi Jeongnam stated, "I figure that [Kang Daniel] is the perfect MC for Street Man Fighter as a unique global artist with a strong understanding of street battles and choreography."[s] [s] [s]
In addition, professional dancer Poppin' Hyun Joon who served as a judge for the SMF pre-shows Be Mbitious and Be the SMF, highly praised Kang Daniel's "Upside Down" b-boy dance break performed during music show promotional stages. Hyun Joon commented, "His b-boy moves weren't the most difficult ones but they were not easy ones either. He did side-step, airflare, and then got up to sing immediately. I did not expect he was able to do that […] The song is good, and the choreography and performance are outstanding."[s] [s]
While it has not been long since Daniel made his official debut, his destiny has its own way of connecting the past to the present. From practicing the basic 6-step breaking move at his middle school club to hosting a street dance competition program. From a trainee asking others to vote for him to asking viewers to vote for others' performances.
Dance Video Gallery (click to watch here)