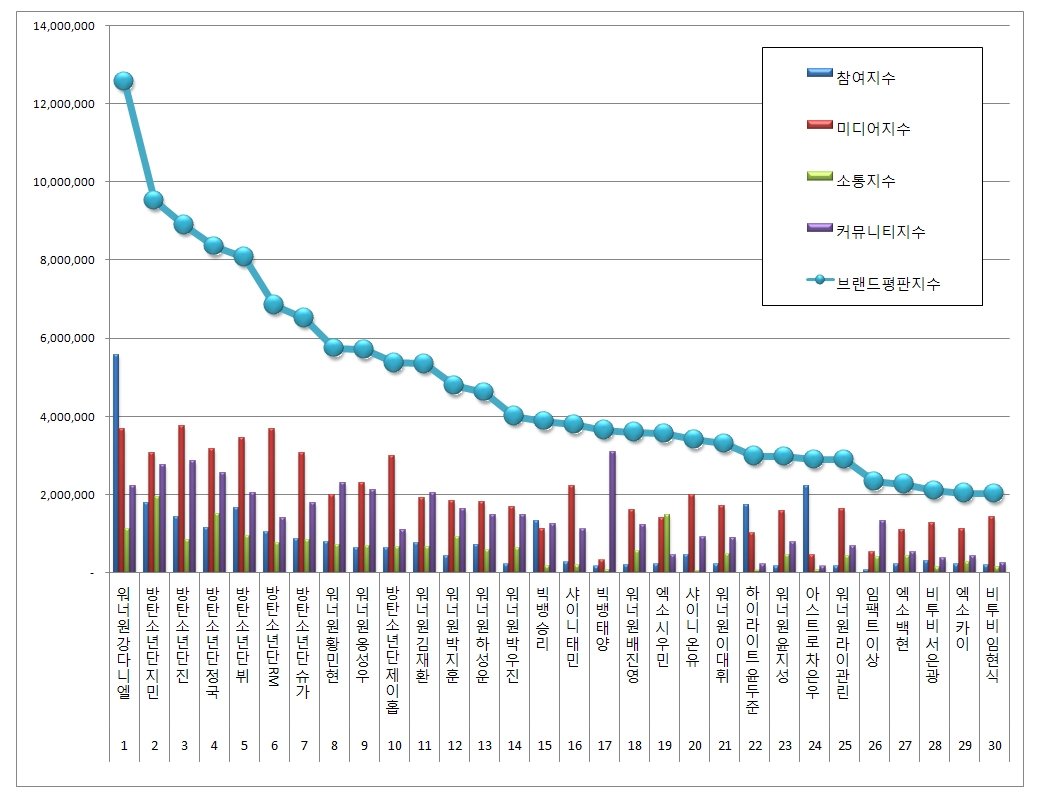 Kang Daniel topped The Korean Business Research Institute's Individual Boy Group Member Brand Reputation Ranking for the month of June. He has maintained his first place rank for 11 consecutive months.
The analysis showed a decrease of 8.75% with a brand reputation index of 12,576,383 collected from May 14 to June 15. In addition, it showed an increase of 18.77% for his brand consumption, 26.50% for brand issue, 9.64% for brand communication, and 19.40% for brand diffusion.
Daniel's highest-ranking related terms included "lovable," "cute," and "handsome." High-ranking phrases in his keyword analysis included "ice bucket," "Produce 48," and "fan club." His positivity-negativity analysis revealed a score of 87.02% positive reactions, which is an increase of 8.75% since last month.[s] [soompi]
June 17-18, 2018: CHANEL's new muse and Elle magazine, "Killing women with his gaze, Kang Daniel"
The luxury brand CHANEL has officially selected Kang Daniel as its newest muse for the fine jewelry line. This makes him the second Korean male celebrity to take on the role after BIGBANG's G-Dragon.
In his first collaboration with the brand, Kang Daniel will be modeling an assortment of CHANEL fine jewelry and watches in a pictorial for Elle's July issue.[s] [soompi]
The staff of Elle Korea first met Daniel at the beginning of summer and described him as someone who is as bright as the season itself. Even with the mini album and the incoming world tour, Daniel participated in the shoot with his unique laid back and confident attitude. Kang Daniel's model-like height and perfect body proportions impressed the staff members at the studio. They commented that it was if the high fashion brands' pieces were straight from his own wardrobe.[s] [itsmiyapeach]
The profit from the Elle magazine July issue with Kang Daniel will be used to purchase 500 trees. The magazine will donate 500 additional trees for a tree-planting project to make the Elle x Kang Daniel Forest.[s] The forest will be established in October of this year, and located in Cheongna International City, Incheon.
On June 18, Elle Korea revealed the pre-orders for the July issue sold out. The magazine then proceeded to print additional copies, but these also sold out. According to industry sources, this is the first time that a man on the cover of a fashion magazine aimed for women had such huge sales. In addition, Elle's Instagram followers reached over 1 million after news of Kang Daniel being on the cover broke.[s] [itsmiyapeach]
UPDATE: The Global Times China published the sales of the July issue of Elle Korea reached a rare high of 100,000 copies sold this week, and orders for more are still coming in. According to reports, sales numbers are expected to continue growing as fans in other countries including China continue to order the magazine.[s]
June 19, 2018: SBS Morning News, "Kang Daniel's good influence"
180619 [SBS 모닝와이드] 팬들과 함께 훈훈한 선행을 이어가고있는 스타 #강다니엘 컷
SBS Morning news reports abt celebs incl. #KangDaniel whose good influence triggered fans to do good deeds & how thousands of fans joined in the campaign causing the website to exceed traffic quota pic.twitter.com/rk0m2x34fb

— [slow🐌]강다니엘닷컴🍑KangDaniel.com (@kangdaniel_com) June 19, 2018
June 22, 2018: Male Advertisement Model Brand Reputation Ranking
The Korean Business Research Institute revealed Kang Daniel topped the Male Advertisement Model Brand Reputation Ranking for the month of June. The rankings were determined through an analysis of consumer behavior using big data collected from May 21 to June 22. The Korean Business Research Institute evaluated the participation, communication, media, and social values of 50 male advertisement models in order to calculate each star's total brand reputation index for June.
Wanna One's Kang Daniel topped this month's rankings with a brand reputation index of 1,073,888. The idol's highest-ranking related terms for June included "cute," "I like him," and "handsome." His positivity-negativity analysis also revealed a score of 83.22% positive reactions.[s] [soompi]
June 25, 2018: Shinhan Bank gains customers' trust after Bitcoin controversy thanks to Wanna One
Shinhan Bank revealed Wanna One helped reverse the negative image the bank had after a Bitcoin controversy, attracting 1 million young customers and selling 50,000 limited edition SOL Deep Dream check cards in 9 days. More than 58.9% of Shinhan's media and social buzz came from Wanna One, with Kang Daniel being the most used word.[s] [13Iris08]
June 29, 2018: Broadcast Advertising Festival
Kang Daniel's Hite Jinro commercial film won 1st place for the 2018 Broadcast Advertising Festival with 50% of the votes. The award ceremony will be held on July 26, 2018.[s]
June 30, 2018: Ice Bucket Challenge update
On June 12, 2018, Kang Daniel shared on the Wanna One Instagram account a video of him participating in the Ice Bucket Challenge and donating 2 million won through the Seungil Hope Foundation after being challenged by EXO's Chanyeol. This noble action immediately prompted fans all over the world to also donate and spread awareness with the hashtag #아이스버킷챌린지_강다니엘, causing the foundation's website to crash momentarily due to the overwhelming number of visits.
As of June 29, 2018, it was revealed by the Seungil Hope Foundation website that from over 10,000 donations they received from May 29 to June 28 (amount exceeding 9 billion won), the reports show a total of 1,087 donations were affiliated with Kang Daniel.[s]
Charity Fairy and Charity Angel subway ads
After winning the Charity Fairy and Charity Angel categories through Gaon's Kpop Star app for 5 consecutive months, Kang Daniel's fan-designed subways ads will be on display for the whole month of July. If you wish to visit them, they are at the Seoul subway line 2, Nakseongdae direction doors 6 and 7 for the Fairy of Fairy ad and Bongcheon direction doors 4 and 5 for the Angel of Angel ad.
[/fusion_gallery]
Subways ads designed by @bannerofdaniel
For his PD101 unaired individual evaluation, Daniel did a dance break and sang "Sometimes (가끔)" by Crush.
If Daniel was given the opportunity to act in the future, he mentioned he would like to play a bossy CEO or a lawyer.
Daniel considers "Open Up" as his legendary stage.
Daniel chose the ability to communicate with cats as a superpower he would like to have.