4 Idols Certified by Fans as Perfectly Matched CF Models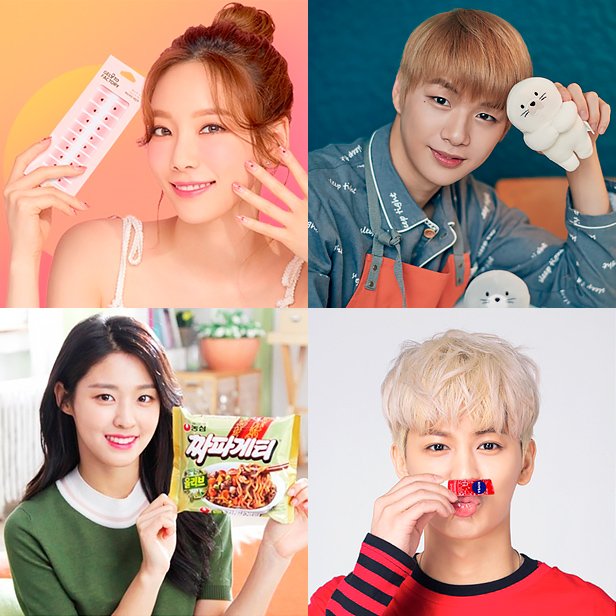 SNSD's Taeyeon with Gelato Factory 'Hatto-Hatto Nail Fit', Wanna One's Kang Daniel with The Spring Home, AOA's Seolhyun with Nongshim 'Chapagetti', and iKON's Yunhyeong with NIVEA Lip Care. [Other idols parts omitted]
The true model who caused sold out events for The Spring Home…Wanna One's Kang Daniel!
Wanna One's Kang Daniel, who maintained #1 on the brand reputation ranking for 13 months straight, is the one behind home furnishing brand The Spring Home's mythical jump in sales. In the past on the reality program Wanna One Go, Kang Daniel was seen hugging a body pillow shaped like a bear and lounging around. Afterwards, his fans began to purchase the body pillow by word of mouth, and The Spring Home's CEO thanked Kang Daniel via social media for the sudden rise in sales for his products.
Last November, The Spring Home representatives stated, "Kang Daniel appeared with one of our products on the Wanna One Go program, which received a lot of love. Kang Daniel has a friendly and sunny personality. We felt that it matched the direction in which we wanted to take our products, so we signed him up as a model for our brand. Since then, the videos released online and photoshoots of Kang Daniel became a huge sensation, and the products in the commercials are all sold out.
In February, The Spring Home said, "Kang Daniel is being called a 'perfectly matched model' and 'true model' among consumers and has had great results," adding, "We extended our exclusive contract with Kang until the end of 2018."
Meanwhile, The Spring Home has recently opened a new online store in Thailand as Kang Daniel diligently promotes their new F/W line.