"The love Kang Daniel has for his fans… Isn't he tired from his busy schedule?" is what I want to ask in my surprised state.
He puts up lots of comments and pictures on GongCa (T/N: the official fancafe account is Gongsik Cafe), goes to public sections that do not require a membership, puts up comments, and plays with his fans. When he heard that only cafe members could see his pictures, he changed his profile pictures often so that anyone can see them ㅜㅜ
Earlier, fans opened a cafe event. He must have been tired after completing his schedule that day, but he came ppo jjak ppo jjak (T/N: means cute), finding his way to do a surprise visit. He took many photos and did a self-cam and put it up on GongCa. I saw this and thought to myself, "What kind of star is this??"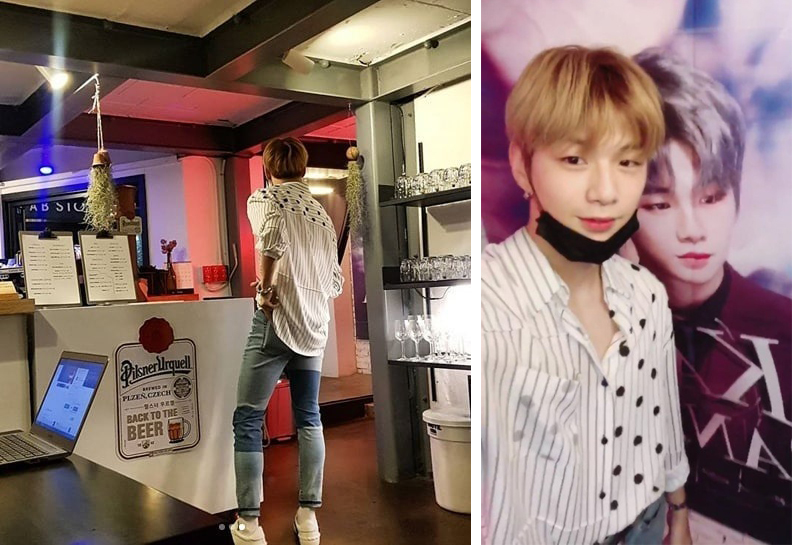 There are a lot more things he has done, but the important thing is that today is Kang Daniel's birthday,
and fans are super busy during birthdays~!
Then, on December 10th right when it became his birthday, he announced on GongCa that he made this in between his schedules and posted a video he made.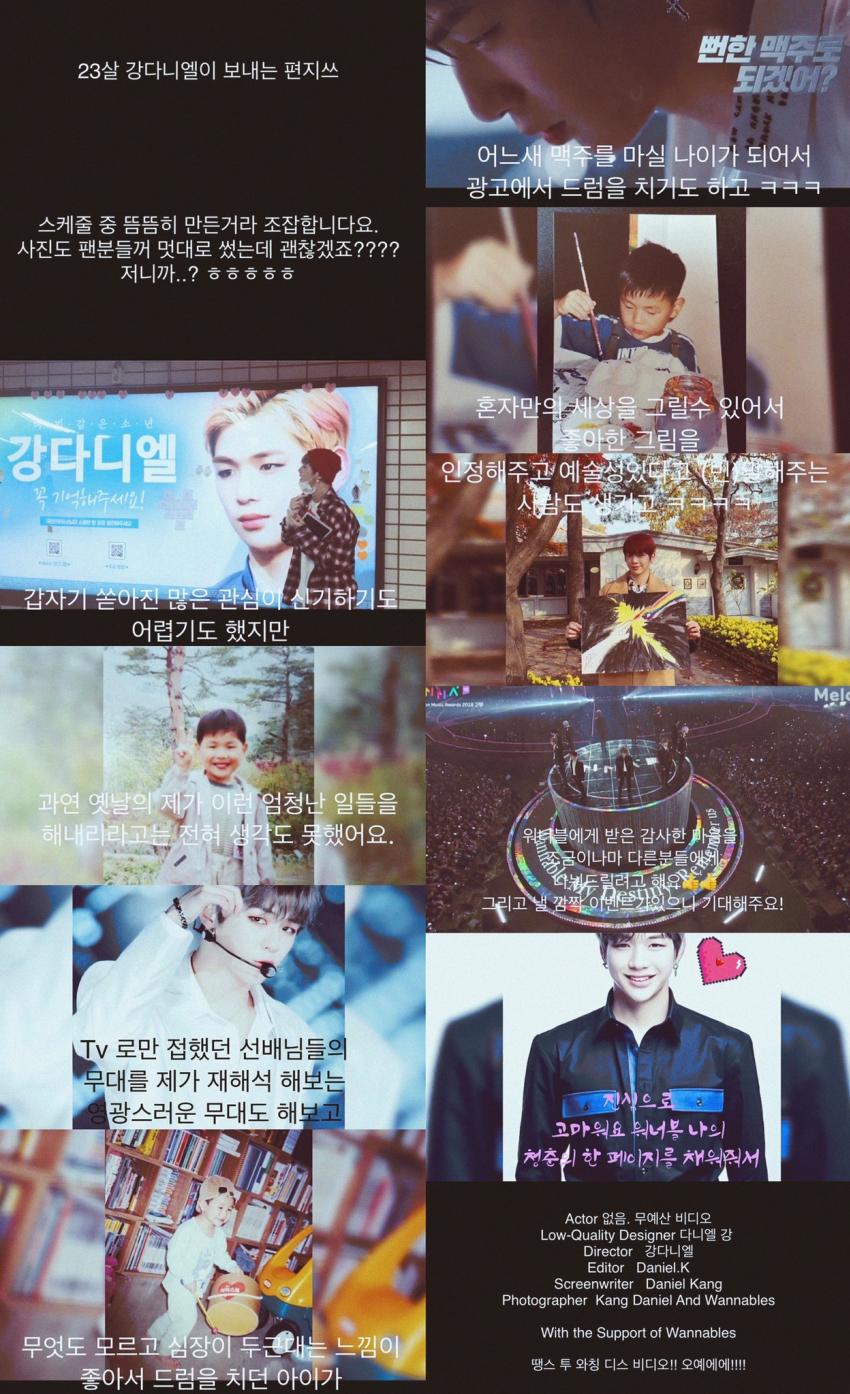 Seriously, how did he think of making this video during his busy schedules and posting it right on his birthday?…
In between his schedules, he must have thought about it a lot, ppo jjak ppo jjak toying around with a video editor he's not familiar with. When I think about him and his thoughtfulness… ah, he has such a beautiful mind ㅠㅠ
And it is so funny that he used so many versions of his name during the end credits ㅋㅋㅋ
There is MAMA today (T/N: at the time of this post), but after lunch Daniel left another comment on GongCa.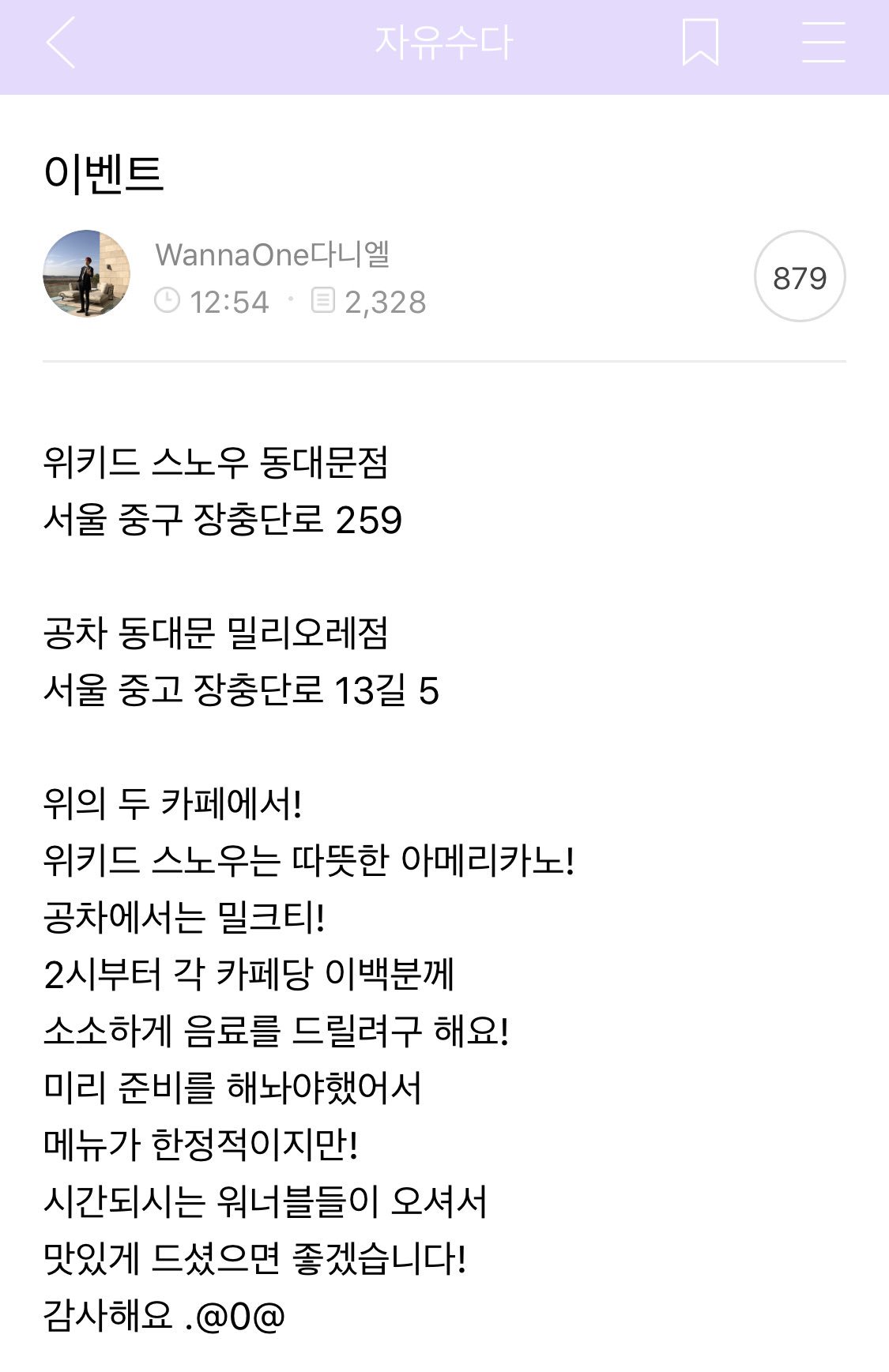 His post in English:

Yo Wannables! I'm Daniel
I want to say thanks to all you Wannables from every city and countries
I saw messages for my birthday. I saw my birthday song video 🎉
I saw Tower LED (omg, it's too BIG)
I saw many pictures and fanarts
Really really really thank you so much
Please look forward to today's MAMA stage of my team Wanna One!
And be safe, be healthy, be happy
Lastely, thank you guys for all the support
You guys make me complete 👏👏👏👏👏

Event (translated by @Niel_cafe)

Wicked Snow Dongdaemun branch
259 Jangchungdan Road, Jung-gu, Seoul

Gongcha Dongdaemun Migliore
13 – 5 to Jangchungdan Road, Seoul

At the two cafe above!
Wicked Snow Warm Americano!
Gongcha Milktea
He contacted two cafes near Dongdaemun Design Plaza where MAMA is being held to hand out drinks to his fans (T/N: he wrote to Wannables and not just his fans). He wanted to get a coffee car at first, but there was no place to park, so he changed it to cafes. In case fans could not get the drinks or come to MAMA and for international fans, he put up in English that he really enjoyed looking at the birthday support ads and fanart and thanked his fans ㅠㅠ
Our cutie pie Daniel is buying. Daniel is so cute when I think about how he must have planned the sticker in advance.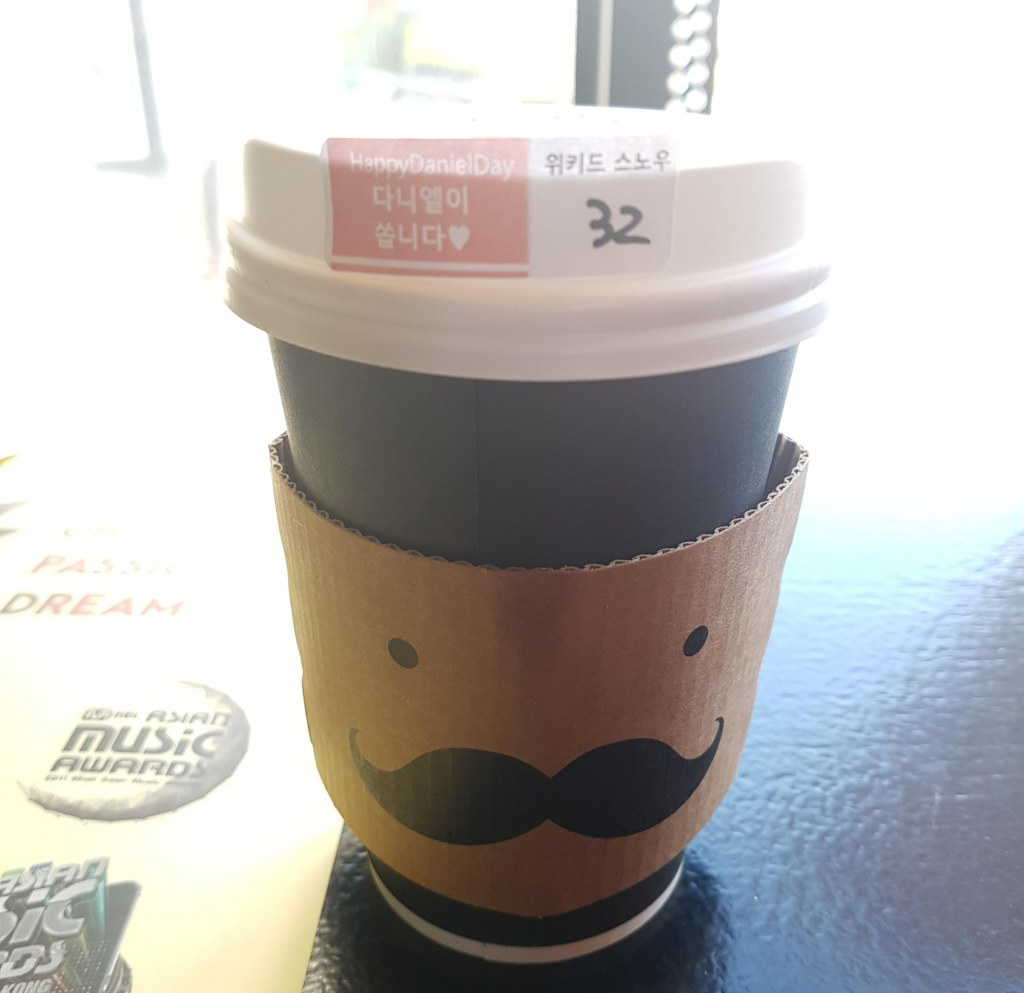 It doesn't end there. The fans were in line for the cafe event, and he surprised them by showing up unannounced and rolled down his window to speak with his fans.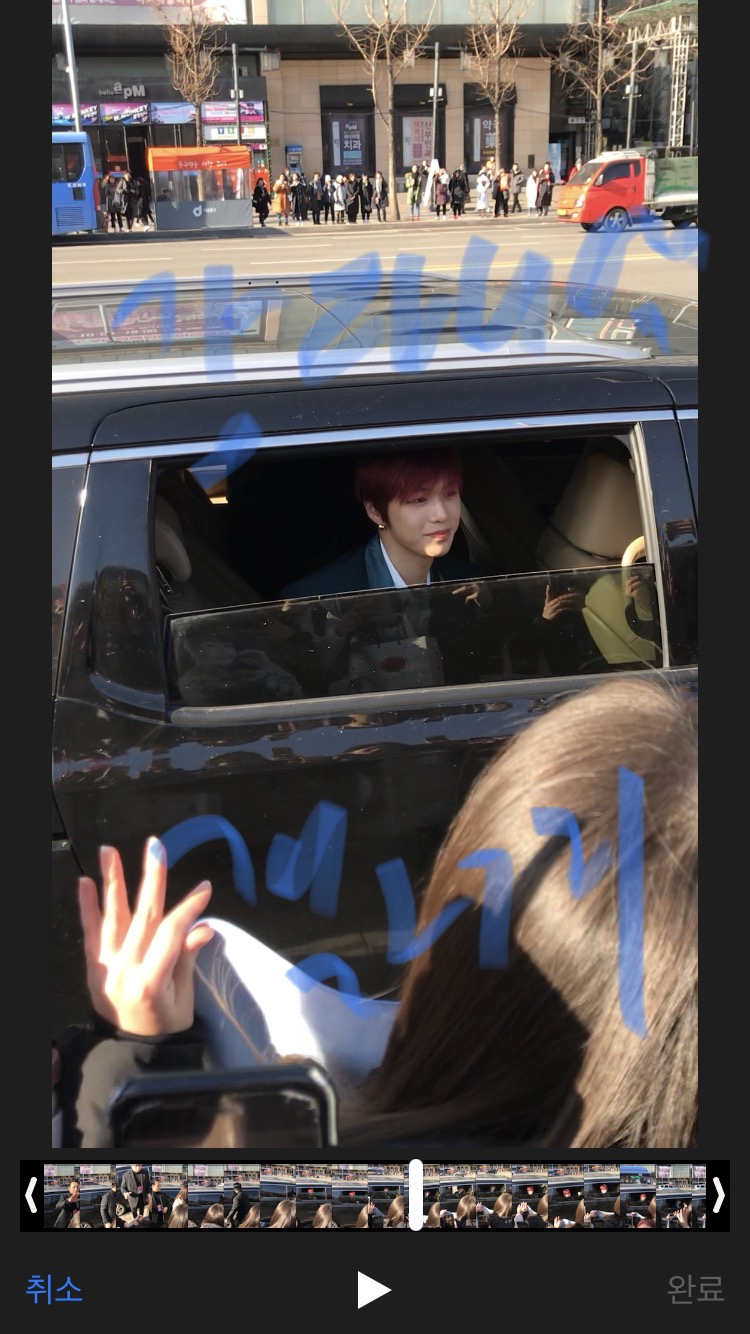 The cafe owner confirmed that Kang Daniel came in person to pay for the coffee ahead of time ah hook~ (T/N: onomatopoeic sound)
Seriously, Daniel is so warm. I felt so warm today as well, and it was a happy day for me.
He planned and got ready for his own birthday… How is it that the birthday man is the busiest preparing for an event? ㅋㅋㅋ
It is almost time for MAMA… Kang Daniel is really the master of execution, and his work ethic is the best!!
(Adding the MAMA red carpet picture… Definitely has to be biting on a red rose on his birthday for the full effect!)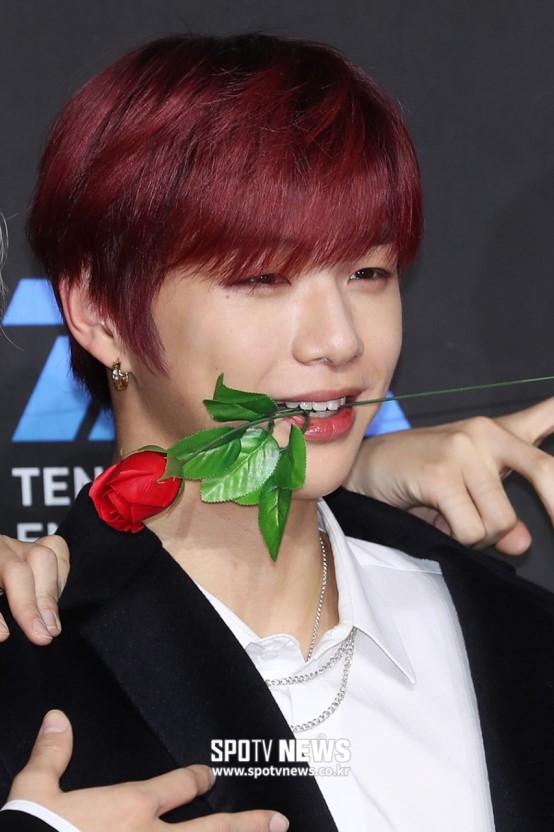 It's been almost two years since I have been fangirling after Produce 101, but I feel like it's been such a short time. Day after day I feel loved by my Shusu (T/N: Superstar), and every day feels like a new day that I feel sooooo happy!
A fan said this, "I don't take it for granted that this is how a star behaves towards his fans." It is really hard for a star to do. As a fan of Daniel, I am so grateful for the lovely and wonderful memories he gifts to me. I am full of gratefulness.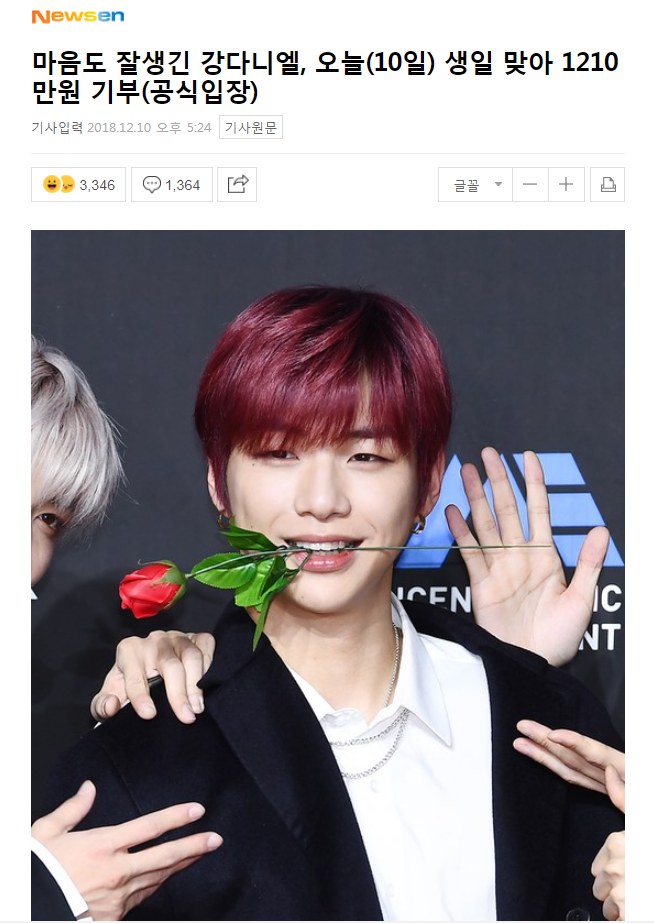 I mean, seriously, how much more can he surprise his fans with? ㅜㅠ Giving on his birthday…
I am really going to support Daniel for the rest of my life…ㅠㅠ
I feel it all the time, but I really, really did well by stanning Kang Daniel ㅠㅠ
Congratulations, Daniel on your 23rd birthday ♡ and respect to you ♡♡
ㅇㅇ 2018.12.10 19:01 | 316 upvotes
See the coincidence ㅠㅠㅠㅠㅠㅠㅠㅠㅠ (T/N: He wrote that he would donate)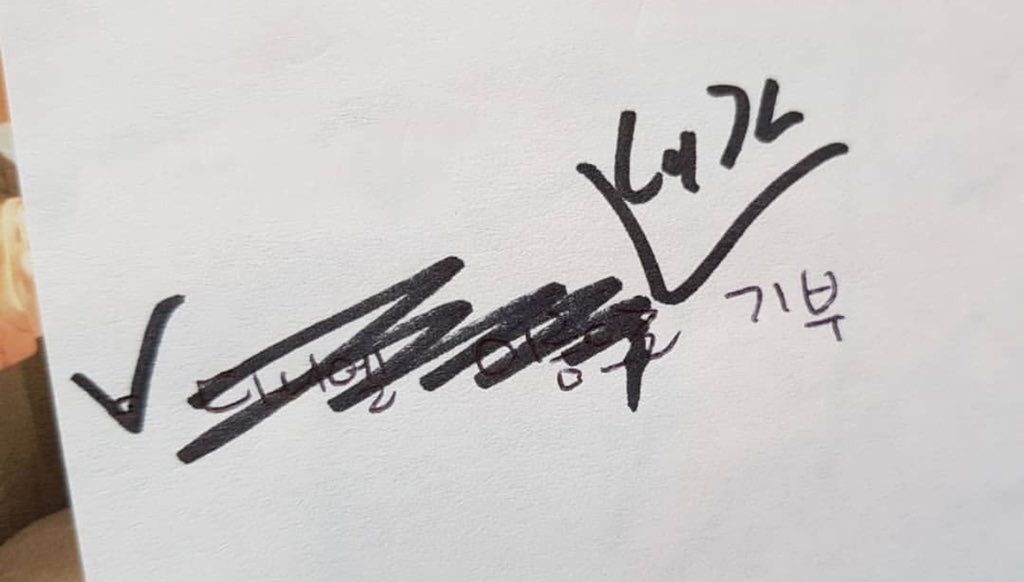 ---
ㅇㅇ 2018.12.10 19:06 | 288 upvotes
Really nice, cute, and lovable Koroong-yi ㅠㅠㅠ ❤️ The more I fangirl, the more I feel like I'm raising a lovable mummoo.. Like a puppy running around shedding its fur, he's Kang Choding. Then, in between his busy schedules, he comes to GongCa and leaves messages. The way he shares all of himself is just like a puppy wagging its tail and following its master around. However, he is serious about his performances and performs really well, and he's soooo sexy ㅠㅠ I'm just happy stanning and living the Kang Daniel life. I think it's the best (R A) (T/N: R A is the acronym for "Real"). Our mummoo, congratulations on your birthday. This is a picture of your fantastic physical.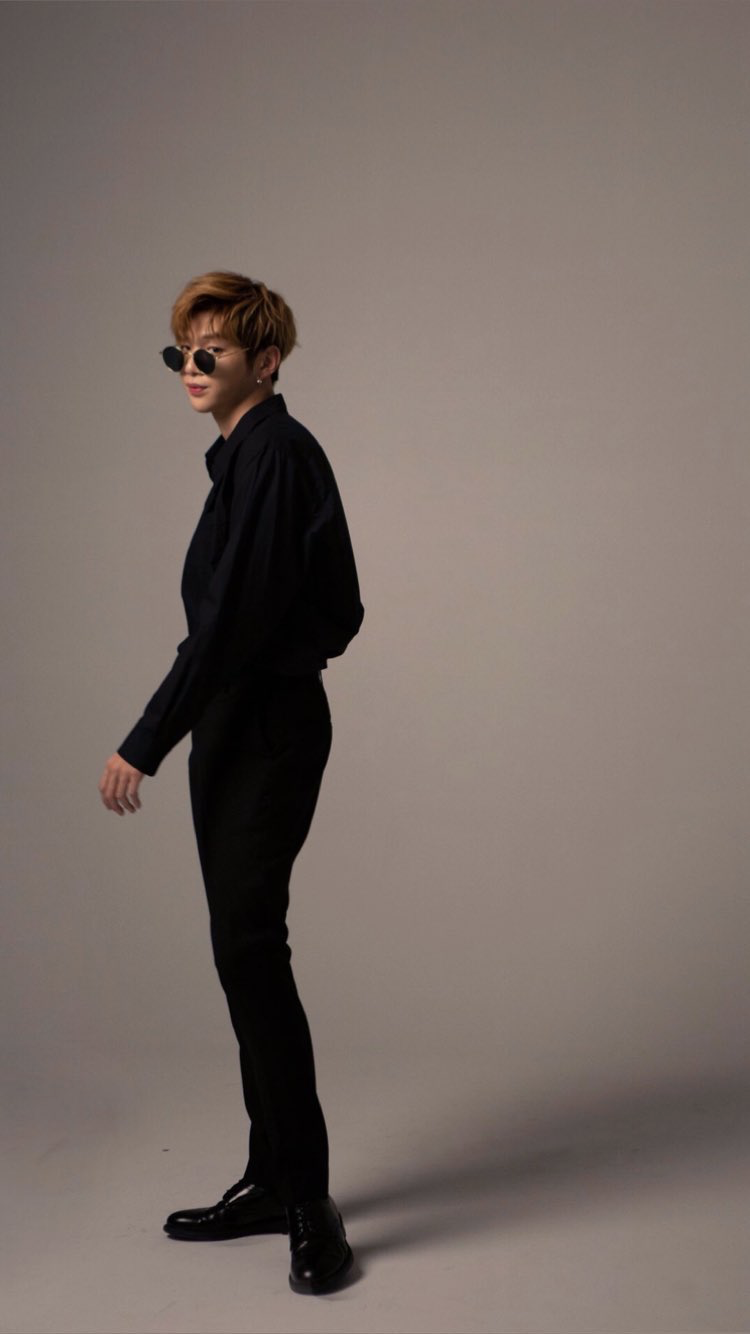 ---
ㅇㅇ 2018.12.10 19:04 | 278 upvotes
I am Daniel's fan, and R A (T/N: see above) I feel the love I am receiving. He really thinks about his fans, and he has such a lovely heart.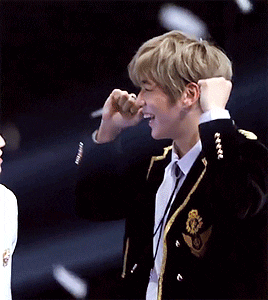 ---
ㅇㅇ 2018.12.10 22:29 | 122 upvotes
Look at how he made a surprise appearance and looked at his fans with those warm eyes.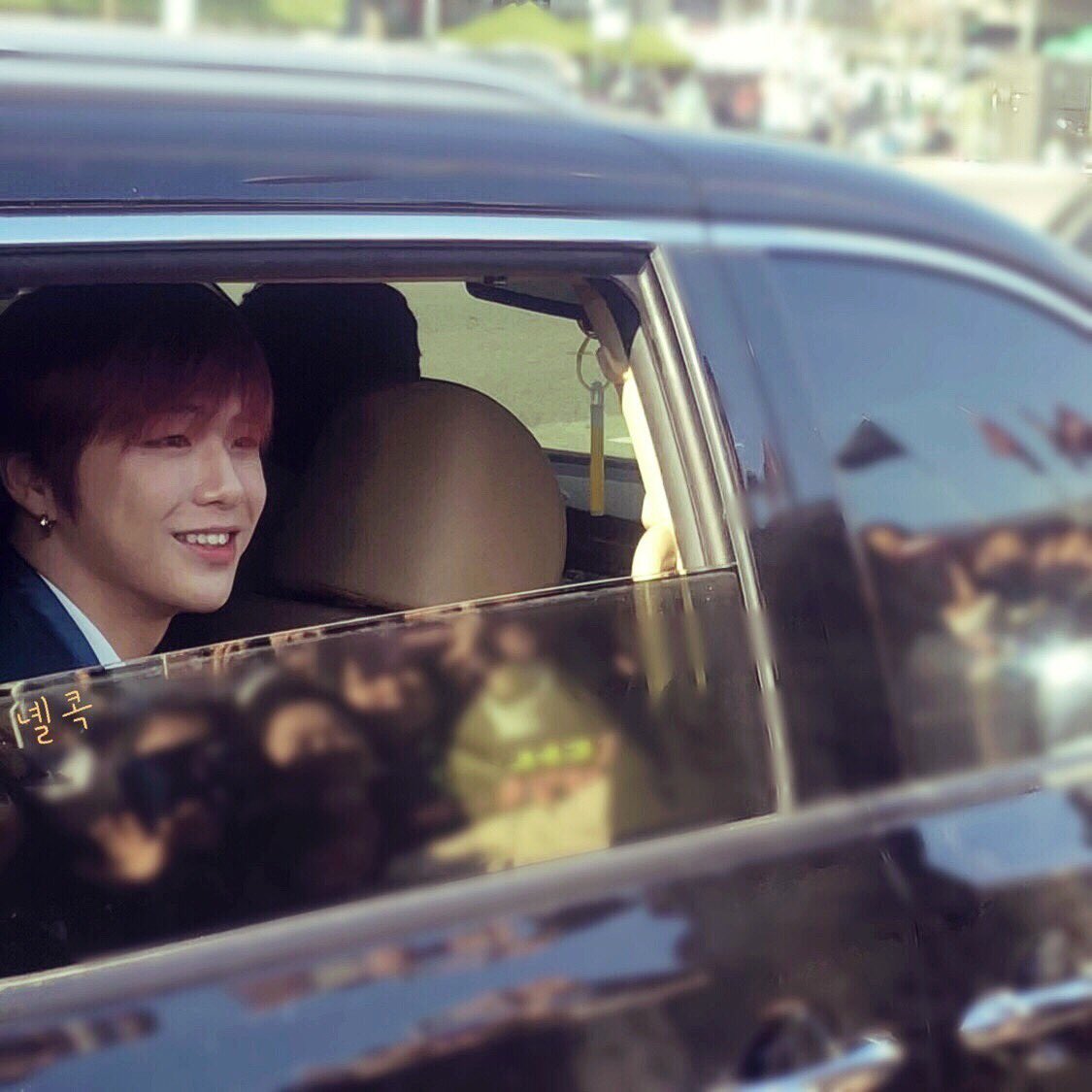 ---
ㅇㅇ 2018.12.10 22:42 | 117 upvotes
Really! 1. He put his heart into it and edited the video 2. Gave back to his fans (He wanted to provide a coffee car but could not make the reservation due to parking, so he reserved cafes instead and told his fans in his low voice but spoke so clearlyㅠㅠ) 3. He followed his fans and participated in donating (He gave the same amount as his birthday 1210 man won [T/N: approximately $12,000] ㅋㅋㅋ When his fans gave the same amount, he copied them ㅋㅋ) He is so cute and lovable. I mean, really.
---
ㅇㅇ 2018.12.10 23:13 | 104 upvotes
I mean, I wonder how such a person exists… He always keeps his words, and it is not enough that we not only get to see him develop more but he also gives back to his fans…ㅠㅠ It's the first time I felt loved by a singer. Really, I am grateful that the star I like is you, Daniel ㅠㅠ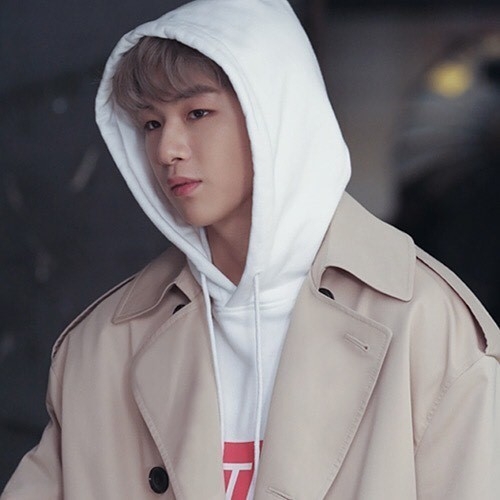 ---
ㅇㅇ 2018.12.10 23:17 | 88 upvotes
Mummoo with good manners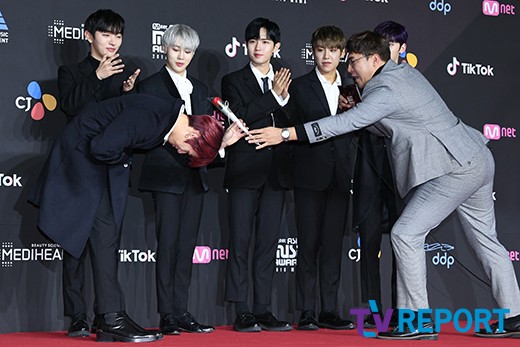 ---
ㅇㅇ 2018.12.10 19:11 | 88 upvotes
Don't take Daniel's warm heart for granted.
---
ㅇㅇ 2018.12.10 23:35 | 87 upvotes
Donating $12,100 is so cute and funny, isn't it? Fans are always giving 1210 since it's his birthday ㅋㅋ Really cute ㅠㅠㅠㅠ
---
ㅇㅇ 2018.12.11 00:38 | 83 upvotes
Fans were sad the coffee event was full. Then, suddenly a car stopped nearby, and a redhead appeared ㅋㅋㅋ He was going to have a coffee car, but he could not get the place reserved, so he apologized and said "Please enjoy the drinks!" and also "Thank you" ㅋㅋㅋ Ah, sooo cute, and thank you ㅠㅠㅠㅠ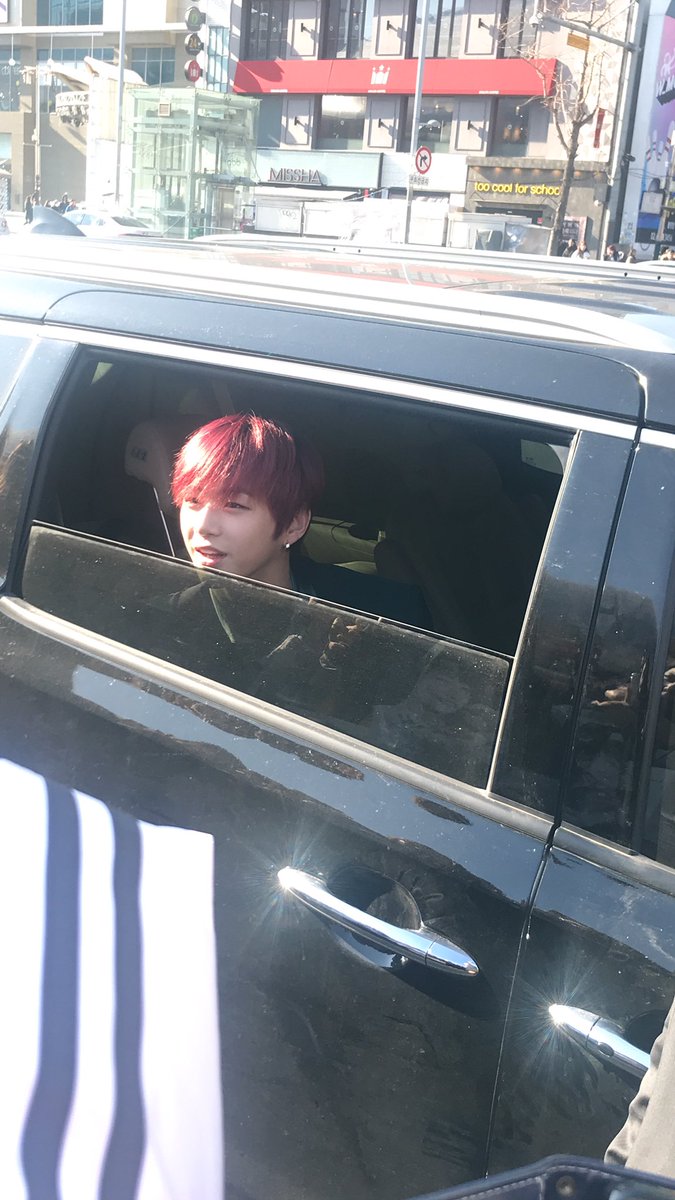 ---
ㅇㅇ 2018.12.10 22:15 | 76 upvotes
Once you start to become a fan, then there is no exit ㅠㅠ I am so happy to receive so much love from Daniel ❤ Our Mummoo, I trust you to do the same next year.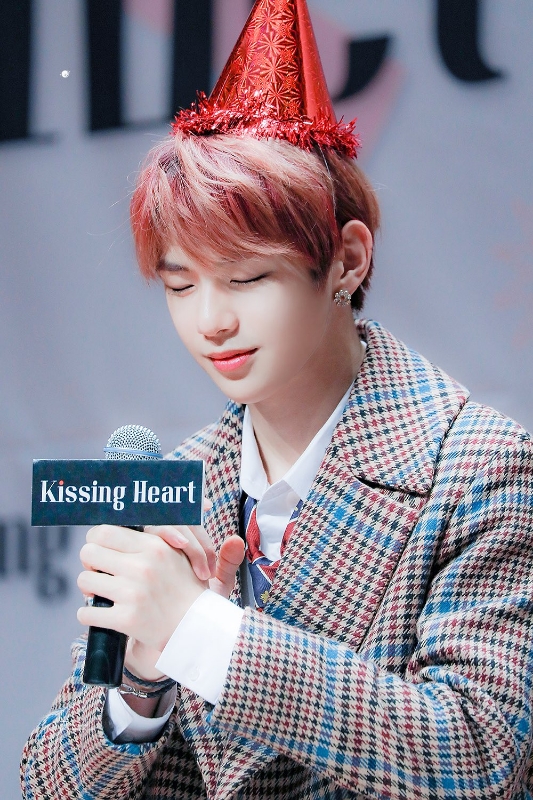 ---
ㅇㅇ 2018.12.10 20:38 | 76 upvotes
Seun-iya (T/N: She's calling out to Newsen and calling it by the end word ㅋㅋㅋ), please put out an article regarding how Kang Daniel himself gave $12,100.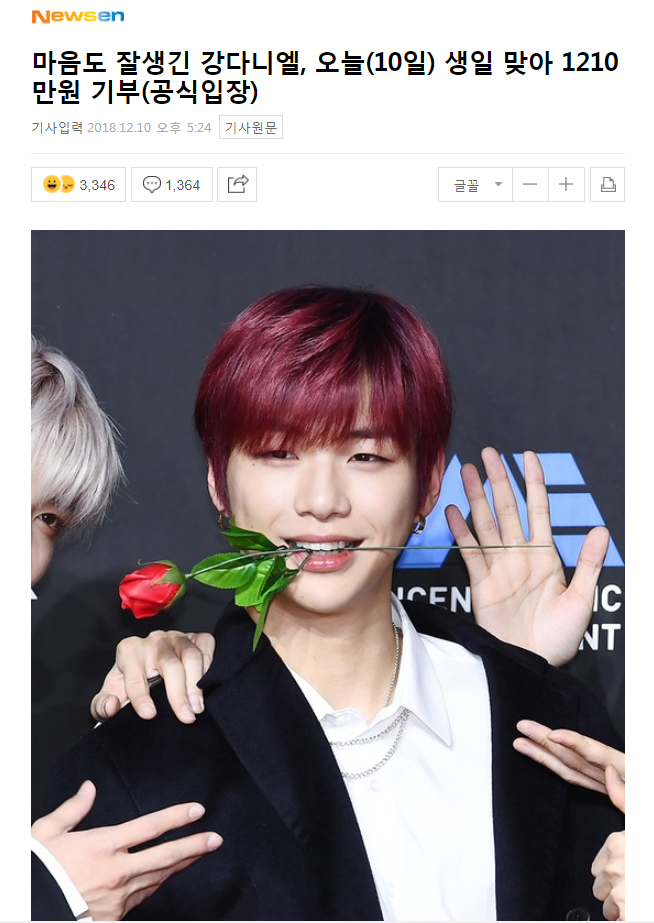 ---